Settings
General Settings
E-Mail : Your registered E-mail address will show up here
Business Name: The name of your business
Web : Fill web address of your business on this column
Timezone : Choose the exact time zone from this Drop-down list
Tax Type : Select the Tax type of your business
Currency : Select the Currency type you use in your Business
Shifts : Enable this option if you have to track the work-shifts of your employees
Included Tax : If you enable this option the price of the product you add in your store will be inclusive of Tax. If Disabled, the price of product will be exclusive of Tax
Customer Loyalty : Enable this option to enable loyalty settings
Rounding : This option allows you to Round off bill amount. By activating this option, two columns will appear. On the 'Rounding to' Column, enter the amount to be rounded and fill the Middle Point column. For example, if you set .50 as Rounding to amount and .25 as Middle Point, the bill amount of 10.36 will be rounded to 10.50 or if bill amount is 10.20 it will rounded into 10.00.
Barcode Auto generation :
Activate this option to generate Barcode of a product automatically while adding a New item.
Payment Types
Here is how to add a new Payment Type:
Click on 'Settings' from Side menu bar
Select Payment types
Click on '+ Add Payment Types' button on right top of the screen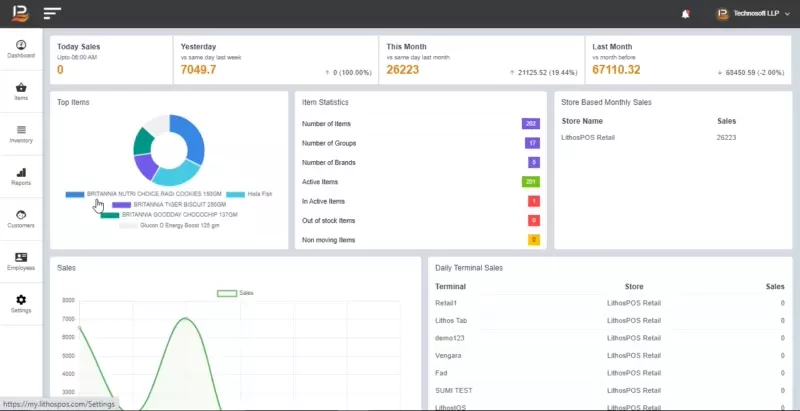 In Payment Type, name your payment
From Drop down list 'Type', select which type of payment you prefer - cash, card or any other payment type
In Receipt Name, name how this payment type is to be printed on the Receipt
If you have Multiple stores it will list down under section Stores, you can tick on the column in which store you need this payment type and click Submit.
Loyalty
Loyalty settings comes with two Loyalty Systems - 'Loyalty Points' and 'Loyalty amount'. In Loyalty Points system, you have to type the amount of 1 point in 'Point in Amount' Column and in Loyalty Amount system 1 point = 1 amount. Give the amount to earn 1 point and the Minimum Redeemable amount.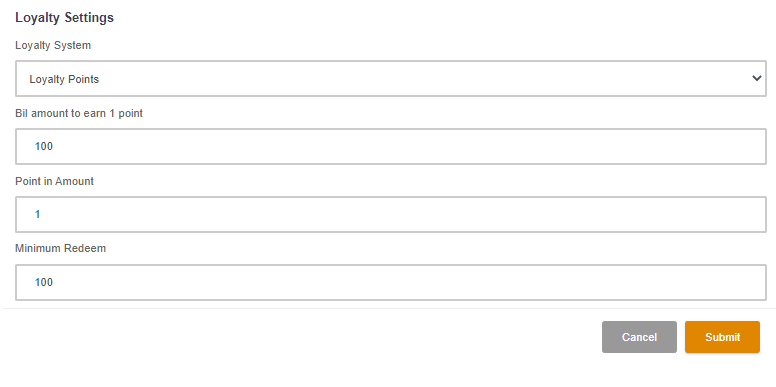 Taxes
Click on 'Settings' from Side menu bar
Select Taxes
Click the '+New Tax' button
In pop-up panel name your Tax in 'Tax' and tax percent in 'Rate'
If your company is under GST (TAX used in India) a Drop down menu 'Type' will appear. Choose whether the created tax is GST, Cess or KFC (Kerala Flood Cess) and click Submit.