Importing Item's
Importing all items at a time through an excel sheet will make your data entry more easier. You can add both Standard and Varient items using excel sheet. To know more about types of items in LithosPOS please see our Item Adding Video from youtube.
Now have a look at how items are imported through an excel sheet.
Login to your BackOffice (Cloud) my.lithospos.com using your registered email Id and Password. Now navigate to Items > Item list , Click on 'Import' button on right top of the screen.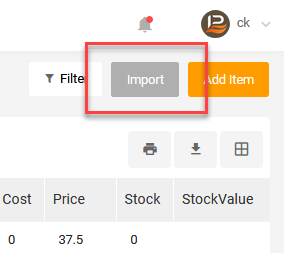 a Pop Up import items will appear. Click on Standard item and click on 'Download Template' botton on top of the Pop Up screen, an excel file containing some data's(for a example) will be downloaded.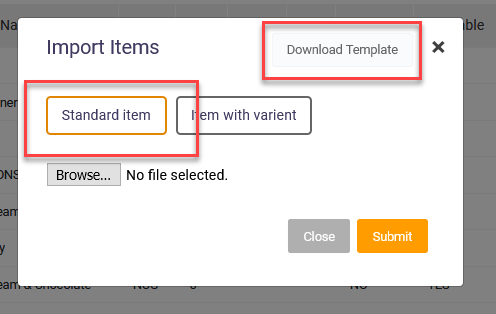 Now open that excel sheet and clear data's inside it and then enter your data's.
Item, Group and UoM are three entries which are mandatory.
In column supply price enter Cost of your product.
Enter YES in column Stockable if you want to track down the stock of that item and in column CanSale it means the item is salable or not.
If your company using tax enter the tax value in volumn Tax.
In column Open inventory, enter the current stock of each item.
Now save and close your excel sheet and once again open your item list and click on import button, select standard item, Click on browse button and then select your file and click Open and then click Submit button. now items will be imported. if there was any issue in items imported a link saying "List of imported items have been skipped" will be show below browse button. click on it to download a excel sheet which contain the reason behind the items skipped.
Importing Varient Items
To import Varient items click import botton from item list page and in import items Pop Up, select "Item with Varient" and click Download Template button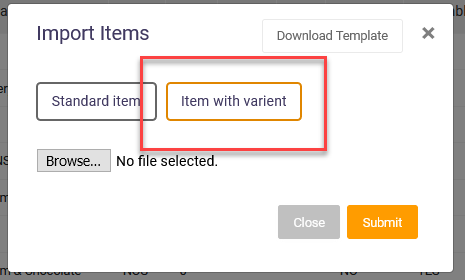 Now open the file and you can see a column named "Option_1_Name", enter the varient name here and enter the attribute's of first option in column "Option_1_Value". if the product have different varients enter the data in next two options.
After entering all details save and close the excel file. Return back to item list and click import button on right top of the screen, select "item with varient" , click Browse button and then select the excel file and click open, Then click Submit button.